ROG STRIX GL553 is equipped with future-proofed features, including a 7th-Generation (Kaby Lake) Intel Core i7 processor and latest GTX 1050 graphics for stunning gaming performance and high frame rates.
The GTX 1050TI's superior performance and power efficiency over previous generation GPUs lets you play nearly all classic and modern games at 1080p at 60 FPS and beyond.
Extraordinary Performance Gains
The GL553's GTX 1050 is a quantum leap in performance compared to previous generation GPUs. Compared to the GTX 950M, the GTX 1050 and GTX 1050Ti have over 2x the framerate performance while playing AAA titles at 1080P!
This ensures that gamers will have a gaming system that's capable of pushing the boundaries of gameplay.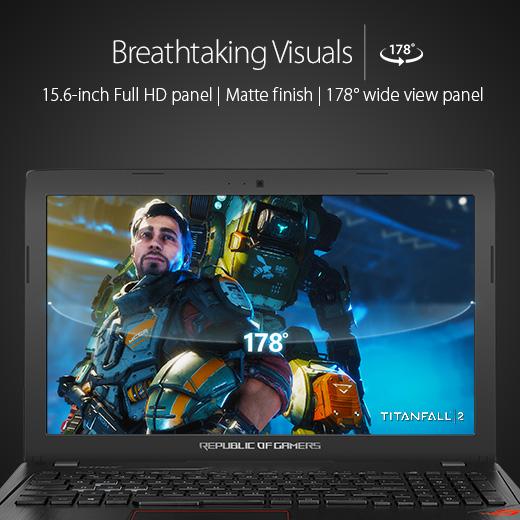 Breathtaking Wideview Display
ROG Strix GL553 features a 15.6-inch Full HD IPS-like panel with wide 178° viewing angles. The panel ensures great contrast and color consistency, and there's no color shift even when you're viewing it from extreme positions.
It ensures superior clarity during gameplay with unbelievable color accuracy and deep and rich contrast. It has a matte finish too, so there's no glare or reflections to distract you during gaming.