It's easy to be passionate about winning, but at Logitech, our passion is in the science that makes winning possible. We build precise gaming instruments. We advance technology so gamers can reach new levels of speed, precision, reliability and comfort. Science is our philosophy, our methodology for studying, testing, and advancing gamers' experience—in the lab and in the game.
Features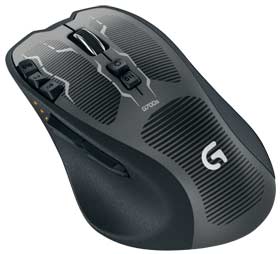 Logitech G700s Rechargeable Gaming Mouse
Wireless freedom for the top of your game.
For gamers who know there is no such thing as "over-prepared", the G700s is a must-have. Precise? Check. Customizable? 13 programmable buttons will perform complex macros at your command. Full-speed wireless? With the lightning-fast report rate of a wired gaming mouse, you won't believe it's not plugged in. And with a single quick-connect data/recharging cable, you can seamlessly switch to a powered connection for non-stop gaming. Whether you're taking down MMO raid bosses, or leading an FPS squad to victory, the G700s gives you epic performance.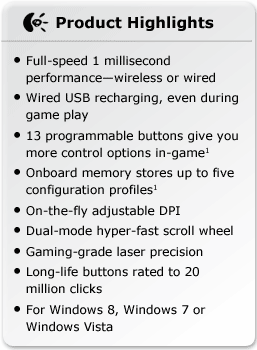 Customizable controls at your fingertips
13 programmable buttons1, individually sculpted so you can play by touch

Easily assign any keyboard keystroke or multi-command macro to any button with Logitech Gaming Software

Or control your game and mouse's performance right out of the box with pre-configured button settings—no software required

Gaming-grade wireless speed
Experience zero delay between your thoughts and actions

Full-speed wireless transmits 1,000 data reports per second—eight times faster than standard USB mice

Tiny plug-and-forget Nano receiver can stay in your laptop or travel inside your mouse

Stores five game profiles
Set and save your unique game profiles in the mouse1

Program all 13 buttons across five profiles for individual players or games

Bring your setup to other PCs without having to reconfigure your profiles

Ultra-durable, comfortable design
Naturally curved grip for maximum comfort during marathon gaming sessions

Long-life buttons are rated to endure an amazing 20 million clicks—up to five times as long as most other gaming mice

Low-friction feet are tested to last 250 km and glide effortlessly over almost any surface

Recharge/data over cable
No need to interrupt the game when it's time to recharge the NiMH AA battery

Charges while you play over a single standard micro USB cable

Quick-connect design lets you seamlessly switch from wireless to a data-over-cable connection so you never run out of power

Designed for gamers—inside and out
High-accuracy gaming laser for better cursor control at any hand speed

Dual-mode scroll wheel for click-to-click precision or hyper-fast scrolling through long web pages

Advanced surface coatings keep your palm from sticking to the mouse

Instant in-game sensitivity switching
Shift your DPI level with a single button press

Record up to five DPI settings per profile—from pixel-precise targeting (200 DPI) to lightning-fast maneuvers (up to 8200 DPI)

Programmable DPI switching buttons are strategically located right next to the left click button for fast, accurate trigger-finger control

Easy-to-use setup software
Use optional Logitech Gaming Software to perfectly match commands to your favorite games

Simply drag and drop settings to customize button and tracking profiles for any game

Or use pre-configured customizations with automatic game detection of the game you're playing
Compatibility