Product Description

5mm Thin Bezel Design: Experience True Visual Immersion
The AERO 15 further breaks technological barriers by opting a class-leading 15" 5mm bezel display. Thanks to the ultra-thin bezel, the AERO 15 offers you greater display real estate without increasing chassis size.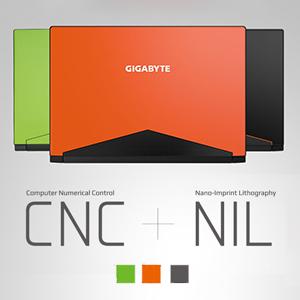 Bringing Back the Art of Crafting
The AERO 15 uses state of the art technology in chassis manufacturing, the CNC (Computer Numerical Control) is an automation of precise machine tools which creates well-detailed chassis. With 3 colors to choose from (black, orange and green), the AERO 15 will suit your needs from performance to style.

X-Rite Pantone Color Calibration Certified
X-Rite Pantone is the world-renowned authority on color and provider of color systems, known worldwide as the language of color communication from designer to manufacturer to retailer to customer. In order to give every professional the most accurate display colors possible, the AERO 15 has passed the test by X-Rite Pantone.

All New Processor: Witness the Next Generation Processing Power
The AERO 15 comes with the latest 7th gen intel Core i7-7700HQ processor, with a 10% increase on the previous processor and added HEVC10b and VP9 hi-def encoding and decoding capabilities. The processor still manages 3x lesser battery consumption in 4K video playback, meaning that professionals can focus creation on the go like never before.
GeForce GTX 1060 Graphics:
The Aero 15 has broken all boundaries and opt for the latest NVIDIA GeForce GTX 1060 GDDR5 6GB graphics in a thin chassis. Further combining that with hi-res encoding technologies by intel, which makes the AERO 15 seamlessly glide through workflow with ease.

Outstanding Battery Life
Your productivity and creativity shouldn't be restricted by your battery life. Therefore, the AERO 15 allows you to work longer thanks to its high-performance 94Wh battery.

RGB Fusion Keyboard: Personalize your laptop
Make your AERO 15 completely unique with the RGB Fusion software, allowing you to personalize any key with macro and an RGB lighting from a panel of more than 16.8 million colors and maximize your productivity.

Up to 3 External Display Output on AERO 15
Connect up to three 4K external display monitors.

Ultra-Thin Adapter
To maximize your mobility, the AERO 15 comes with a new ultra-thin power adapter equipped with an USB port for quick charging capabilities.
Supra Cool
The AERO 15 incorporates specially designed dual fan and heat pipes system that takes care of both GPU and CPU in order to maintain an optimal chassis temperature and performance. Giving you a smooth production experience every time you use the AERO 15.