Product Description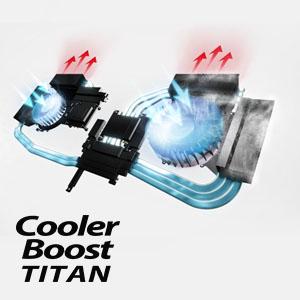 Cooler Boost Titan
Cooler Boost Titan consists of three enhanced fans. Two Whirlwind Blade with 29 blades plus one 23 blades fan for the GPU and CPU to increase 30% more airflow at same RPM. Independent thermal solution on both CPU and GPU with a total of 15 heat pipes make sure that the overclocked CPU keep its highest performance while maintaining the best SLI graphics output of the mobile platform.
Feel the 120Hz difference
Screen tearing and jitters are a thing of the past with the all new 120Hz panel with 5ms response time. The ultra fast refresh rate lets you react instantly to your game giving you a true MSI gaming experience.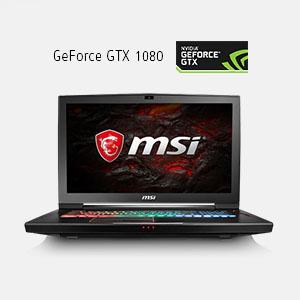 Game like a Titan with GTX 1080
Unleash your gaming dominance with the revolutionary GPU that turns your mobile rig into a sleek, powerful gaming weapon. The GeForce GTX 1080 has now come to notebooks, powered by the game-changing NVIDIA Pascal architecture. This gives you up to three times the performance of previous-generation GPU, plus amazing energy-efficiency, innovative new gaming technologies, and breakthrough VR immersion.
SteelSeries Translucent RGB Keyboard
The GT73VR Series is now equipped with a fully customizable RGB Steel Series keyboard with translucent key edges.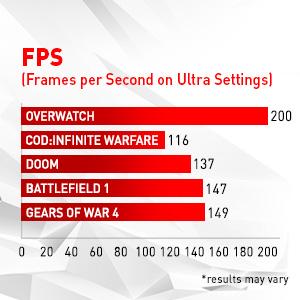 High Frame Rates
Enjoy uiltra high frame rates on the latest triple A titles with MSI's GTX 1080 powered laptops.
Note: Results may vary.
Intel 7th Generation
The perfect combination of MSI gaming laptops with 7th Generation Intel Core i7 Processors will give up to 10% better performance for a smoother VR experience. The 7th generation Intel Core H series processor utilizes a power-efficient microarchitecture, advanced process technologies, and silicon optimizations to deliver faster performance over previous generations.
Battle Ready Design
Enhanced with a 4 way exhausted system and brushed aluminum build, the GT73VR Titan is ready for any challenge.