Razer Core
Product Details
Connection to PC - 

Thunderbolt™ 3 using included 40Gbps cable
Compatible Razer Blade notebook - 

Razer Blade Stealth and Razer Blade notebooks equipped with Thunderbolt™ 3

We accept cash, COD, bank deposit, credit card, Dragonpay, and Paypal
( Cash on Delivery available within Metro Manila only )

Shipped through trusted couriers

7 days store replacement w/ warranty
Product Description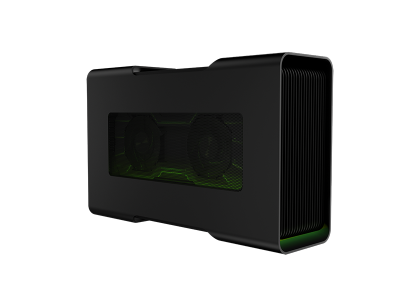 EXTERNAL DESKTOP GRAPHICS
The Razer Core is the world's first true plug and play Thunderbolt™ 3 (USB-C) external graphics enclosure, allowing you to transform your notebook into a desktop gaming experience. Featuring plug and play support with compatible graphics cards, you won't need to reboot your system every time you connect your Razer Blade Stealth to Razer Core. Connect to the future with the most advanced and versatile external desktop graphics solution available.
GPU SUPPORT
Easily upgrade or customize your preferred level of performance with support for full-length, double-wide PCIe desktop graphics cards (sold separately) for a level of performance that fits your play style.
Graphics cards use varied designs based around a common graphics chip. Please ensure the GPU selected meets all size, power, and additional requirements. 
ULTRABOOK UNLEASHED
With the ability to connect gaming peripherals to Razer Core's additional I/O ports, you can easily transform your Razer Blade Stealth into a full gaming setup. Complete with 4 USB 3.0 ports and Ethernet, the Razer Core makes it incredibly easy for you to connect all your devices. By using a single USB-C connection to your notebook, this stellar graphics dock provides you with both data transfer and notebook charging without any hassle.
MORE EFFECTS WITH CHROMA
Apart from delivering awe-inspiring on-screen effects, your Razer Core also comes with Chroma. Personalize your very own unique psychedelic lighting effects then sync with other Chroma enabled devices for a truly spectacular gaming experience.
WORK OR PLAY
Now, there is no longer a need for you to juggle two separate PCs and switch between your Ultrabook and desktop. Your Razer Core provides you with the boost in power and performance that you need to keep working and gaming.